Tampa Door Installation and Replacement
The doors on your home, if they're damaged and in need of replacement, not only detract from its overall appearance, both inside and out, but if it includes your front door can also be lessening your families security as well. Today new pre-hung doors make installation easier than ever. They're more affordable in this packaged arrangement, and also because they're easier and faster to install, job labor costs are also lower. At Tampa Exteriors we make available a broad assortment of doors in a wide range of prices suitable for any type of home, installed by experts who guarantee their work.
Exterior Door Installation and Replacement
If you're looking to sell, here at Tampa Enteriors we remind you to not lose track of the fact that your front door is the first thing a potential buyer is going to see when they enter your home.
Curb appeal draws them to your home, and then an attractive smooth functioning front door welcomes them in.
So if you're looking to sell, the money you spend on a new front door not only pays for itself but it brings the added benefit of making your home more marketable at a better price.
It's also worth noting that more recent developments in manufacturing techniques using materials like fiberglass have worked to bring prices down.
French Door Installation
French door installation has become very popular in recent decades, particularly on new homes where they can be included in during the design phase of the project. The reason here, is that all too often retrofit French door installation on an existing home involves widening the door opening, and that means more extensive carpentry work.
Here at Tampa Exteriors we have the experts who have the knowledge and experience, so that's not a problem. It's also your assurance that when the work is done your French doors will look and function great.
Storm Door Installation
Storm door installation is popular for the very same reasons that storm windows are. They function as an attractive secondary exterior barrier during unsettled weather conditions, and they also pull double duty as light security against insects, blowing debris, or whatever else might otherwise find its way in when your exterior doors are open.
So it's not hard to imagine why in this area Florida Tampa storm door installation is particularly popular. Also the fact that they are so affordable to buy and quick to install for sure helps.
Sliding Glass and Patio Doors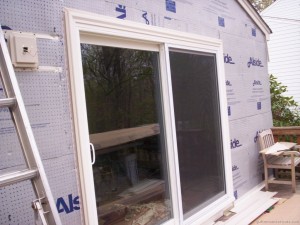 Sliding glass and patio doors work great for opening up the interior of a home to give the appearance of more square footage, so in this respect they're a definite plus for anyone looking to sell. But if you're plans are to stay in your home, they can also make it a more comfortable and attractive place to live.
However, if you don't already have the proper size opening to fit a new sliding glass and or patio door an opening is going to have to be built into your home, and that means that you should only consider handing the job over to a reputable expert with extensive carpentry experience.
Call In One of Our Door Specialists Today
When you need any type of door installation or repair work done, the last thing you need is a contractor to show up and not do the job to your complete expectations. At Tampa Exteriors we built our reputation for custom quality door installation and repair work by catering to our client's needs on a specialized case-by-case basis. Start out by filing out our contact form for a free no obligation assessment of your home improvement project, along with an itemized materials and labor cost estimate on what it will take to get the job done right.