Updating your home or business with a top quality vinyl siding product will help you to keep pace with time. However, you require the services of an efficient installer who can offer the kind of solution that is both affordable and attractive.If so, call Tampa Exteriors (813) 659-5426 for your immediate vinyl siding needs to benefit in a big way.
Call Us For A Free Estimate on Your Next Palm Harbor Vinyl Siding Project
(813) 659-5426
You really don't have to wait for a non-peak season to get the job done because our talented vinyl siding contractors will provide you low price, high quality siding even during peak season. With a vast range of colors and styles, Tampa Exteriors can thrill you with an excellent siding product. Our dedicated staff will also guide you on saving on vinyl siding materials and installation. We have the know-how to work to take up all types of siding, and are also experienced handling all budgets.
Tampa Exteriors differ from the ordinary vinyl siding installers you come across in Palm Harbor, FL. From offering a free estimate to completing the project, we take complete care. Our reliable siding contractors remain friendly and professional with the customers to provide utmost satisfaction.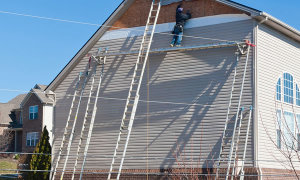 At Tampa Exteriors, you not only get an opportunity to have a closer look at different vinyl siding products, but also find skilled personnel who will provide proper advice on a host of subjects relating to siding. No matter how big or small the project is, we take every assignment as a challenge and deliver the goods to the delight of our loyal clients in Palm Harbor, FL. Our vinyl siding products guarantee longer life because they are easy to maintain, and look new even after several years. Be it home or business, call us to hand over your next vinyl siding products for great results. Not everyone in Palm Harbor, FL can match us in cost or quality."