There are quite a number of ways the look of the exterior of a home can be improved. In the Sunshine State, having new siding work done on a home is likely the most common exterior home improvement job homeowners request. Not all siding jobs are the same as some may prefer traditional aluminum siding and there there are those who would rather have exquisite looking cedar siding installed. Cedar siding can definitely enhance the exterior of a home,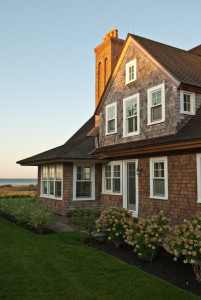 The average size of a home is 2200 square feet and having cedar siding work done can be quite an investment. The value and benefit of a newly sided home with cedar panels may make the investment more than well worth the cost. The look and beauty of a home improves immensely with siding make or cedar wood. The wood will also last a long time as long as it is high grade. Maintenance on cedar is relatively low and they are not prone to fading even after significant exposure to the sun.
The costs associated with having cedar siding installed on the average home (Again, average would be 2200 square feet) is based on the cost of materials, and installation. There are not likely to be any hidden or extra fees when working with a reputable siding company.
Three levels of cedar siding work can be selected when hoping to have an installation done on the home. There is basic siding and there is a higher end, medium level siding that might be comprised of better materials. The third tier would be the highest end of siding and this comes with the highest cost.
A basic siding job is going to range from $10,534 to $12,212, which is $5.12 per square foot.
A better siding job is going to cost around $11,974 to $13,706, which is $5.84 per square foot.
The best siding job is roughly $13,468 to $15,005, which is $6.47 per square foot.
These are, of course, estimates based on a consensus of the average prices for new cedar siding work done on average sized homes. The prices may fluctuate based on a number of different factors. In some cases, the costs could end up being lower.
The only way to know for sure what the cost to have this work done on a specific home is to request a quote for an estimate. The estimate will be based on the exact measurements and specifics of the home where the work is to be performed. The price offered for the work will accurately reflect the actual bill.
At Tampa Exteriors, a completely free estimate can be made available to those who are interested in new cedar siding. Anyone interested in a free and accurate estimate should call the offices of Tampa Exteriors at (813) 659-5426 right away.