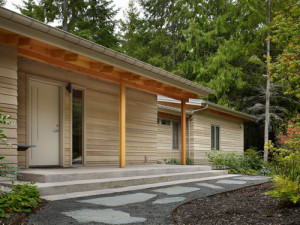 Home owners should always consider installing siding on the exteriors of their homes. The reason is a siding on the exteriors helps protecting your home from many external factors. In addition, sidings do make your home look defined and good. In fact, sidings help to improve the look of the frame of your house structure. In this day and age, there are a number of varieties of sidings.
Unlike in the past, contractors now offer wide choices of sidings including wood, metal, cedar, hardiplank, stone, and even vinyl. Gone are the days when home owners only had to use wooden sidings for their home exteriors. Now there is aluminum and even vinyl sidings that you can choose for your home. When it comes to choosing between aluminum siding and vinyl siding, you need to take a few factors in to consideration in order to determine which product is suitable for you. After all, you need to find something that matches with your budget as well.
Aluminum sidings are easy-to-maintain sidings that you can always consider for your home exteriors. Unlike other sidings, these sidings require minimal maintenance. Due to their non-corrosive nature, these sidings last longer than its traditional counterparts. As aluminum is water resistant, you don't have to worry about any weather conditions. These sidings indeed last long even in harsh weather conditions and repeated sun exposure. Experts claim that the strong and durable aluminum siding varieties offer up to 40 years of durability. However, home owners can consider re-painting the sidings in every 5 to 10 years.
In contrast to Aluminum sidings, both wood and vinyl sidings offer low durability. Wood sidings also wither gradually. Although vinyl sidings require low maintenance like aluminum ones, these sidings are not equally strong as aluminum ones. Vinyl sidings wither in extreme weather. In fact, this tenacious material has a tendency to crack and break in extreme weather conditions. Another shortcoming is its biodegradable nature. As the product is made up of non-biodegradable elements, it is not eco-friendly. Also, these sidings are flammable. For better durability and low maintenance, home owners can choose aluminum sidings over both wood and vinyl products. After all, this siding product offers a good return on your one-time investment for up to 40 years.
When it comes to the siding cost, there are a number of factors that you need to consider. Based on the material, the siding cost is determined. In addition, there is the installation and labor cost. The estimated siding cost for a 2,200 square foot home can be up to $8,500. Vinyl sidings can cost you around $7,000 whereas aluminum siding can cost up to $8,000. On an average, the siding cost per square feet can range from $2 to 3.50, depending on the type of material you choose. In addition, there will be the installation fee and labor cost that you need to bear.
Installation cost can vary from area to area. Also, the cost may vary based on the contractor you choose. While many contractors offer competitive installation price in cities, rural area contractors often have a fixed installation price. On an average, the labor installation cost of sidings range from $3.30 to $4.48 per square foot. Usually, the siding installation cost is calculated based on the materials used, unit labor productivity rate, and hourly labor cost. The latter one is calculated based on the average hourly labor wages based on national and state-wise list. Home owners can always contact a local contractor or take help from a price calculator to find out an estimated cost of the siding installation project for their home.
When it comes to labor cost, there are certain factors that you need to consider. Based on the type of materials used and the hours of labor, the labor cost is determined. For an instance, an aluminum siding installation labor cost is a bit higher than vinyl sidings. The reason is because of the materials used. On an average, the labor cost ranges from $3 to $5 per square foot. You may also see a major price difference when you choose an independent contractor over a home improvement company. However, contractors do certainly offer you a better personalized service than a big company. Home owners should always consider the labor cost pricing while looking for a price estimation of siding installation. Remember that the installation cost estimate should also include a detailed wage cost in addition to the average material costs and the unit labor productivity rates.
Made your decision? Then here is some information for you. If you are in Tampa area and looking for a siding installation contractor, then call Tampa Exteriors at (813) 659-5426. This home improvement company will help you in finding the exact estimates for siding installation.