French patio doors are the ultimate exterior door that opens up a home and let the outdoors in. They provide style, light and elegance to any home and are a regular request by homeowners looking to renovate. Let's take a look at some french patio door inspiration…
The light that comes into this home through its four french patio doors is simply gorgeous. Their living and eating space is greatly extended thanks to the doors leading directly onto the outdoor patio. If the space is available to have an uninterrupted row of multiple french patio doors such as this, it is a highly recommended design feature.
The bright, crisp white of these french patio doors makes them pop against the dark chocolate brown colored wood floors. The two stationary doors to the left and right of the functional patio doors act as frames, providing ample light into the home. The dark hardware on the doors mirrors the dark color of the outdoor patio furniture nicely and allows the inside to work well with the outside of the home.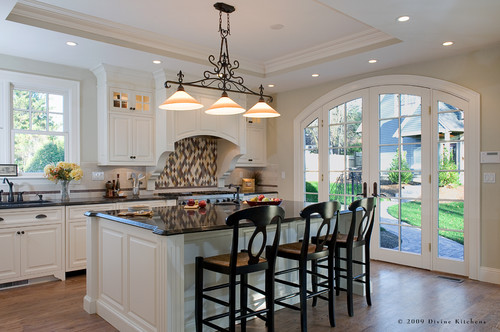 French patio doors need not be rectangular in shape. The photo above illustrates how an arched top door can be quite a statement piece in a home. Having french doors in a kitchen is both aesthetically pleasing and functional. The access to the outdoors is lovely and the glass lets in an abundant amount of natural light, brightening up the room.
French patio doors are available in a multitude of colors, sizes and styles. As illustrated in the home above, patio doors can create a custom look with the exterior of a home. The white molding that surrounds the doors provides an accent to the dark color of the doors, allowing them to stand out and be noticed as the lovely architectural features that they are.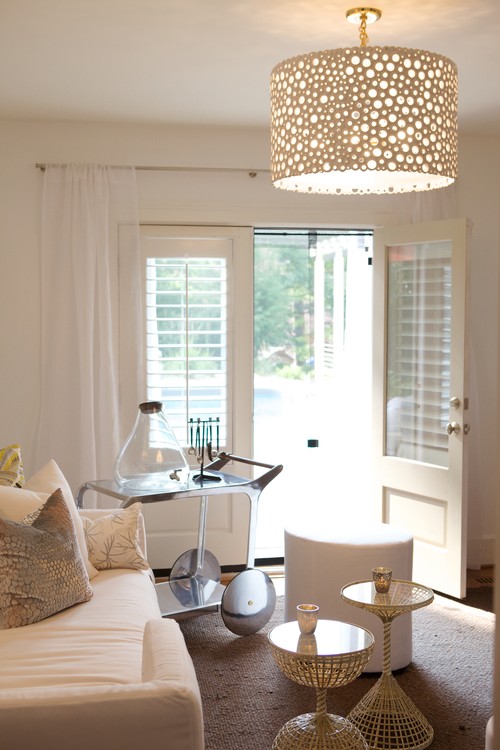 The addition of white plantation shutters to the above french patio doors provides a lovely cottage feel to the room. The shutters complement the interior design, going nicely with the sheer curtains and white decor. The doors let in a nice amount of natural sunshine and both lighten and soften the room.
Don't forget to read our main page about our door work.