The outside doors of houses provide entrance into their interiors. Homeowners can install attractive doors that are inviting and look great with the architectural style of their home. Gathering ideas for various design styles, people can select excellent exterior doors to help make their house look like a home.
The Front Door of the House
The front entryway of the house should receive extra focus. Many times, this is the door that most guests and strangers approach. Homeowners can choose an ornamented door a plain one on which they can hang seasonal welcome signs or wreaths. A red door has special significance because it means welcome and happiness. People can select from numerous shades of red that look right with exterior house colors.
Side and Back Entrances
Back and side doors should complement the exterior decor of the home. Often people choose basic doors, but windows in the doors let in sunlight. Some people want plenty of clear windows in doors, but they may prefer to have some curtains or screens like these for privacy. These convenient screens are easily retractable. Providing sunlight into the interior is the best benefit of doors like French doors.
Selecting Exterior Door Features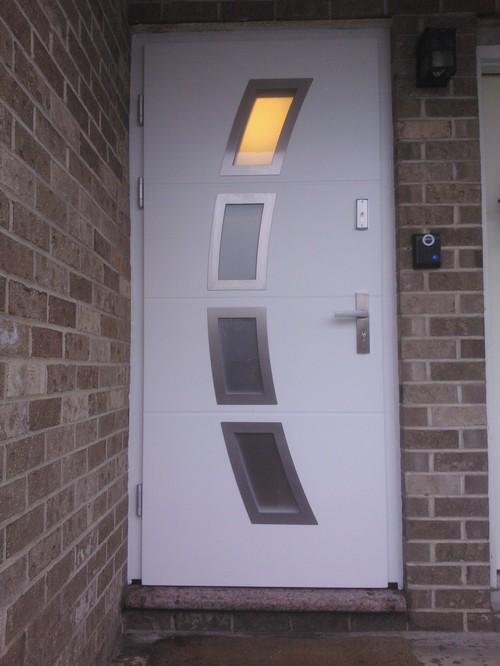 Those choosing entrance doors can consider the various features that are offered with different styles of doors. Of course, exterior doors must be strong and secure to keep intruders out as well as welcome in those who belong. Door handles, windows, door knockers and decorative details like creative arrangements of small windows are some of the features of entryway doors. One fine example of imagination at work in the arrangement of windows is the crescent shape of the arrangement of the windows in this example photograph.
Glass and Fiberglass in Doors
Some doors, especially the front doors often feature frosted or stained glass or fiberglass. In this picture, the fiberglass is much like stained glass in appearance and style. Textures are in the surface and a geometric pattern includes a central star. Floral and other lovely shapes and objects are often of stained glass or fiberglass windows. In this particular door, the deep mahogany wood contrasts well with the fiberglass.
Screened Doors for Fresh Air
By installing screened doors on exterior doors, homeowners can open the main door and let fresh outdoor air into the room. Screened doors let air in and keep mosquitos and other insects outside where they belong. Screened doors like this one have metalwork ornamental designs across them. The metalwork helps to stabilize the screen. Vintage and new screen doors include ornamental metalwork with patterns such as flowers, birds and leaves.
Inviting and Attractive Home Entrances
Simply or elaborately decorated, entrance doors into the home should seem welcoming and hint of the pleasant atmosphere found inside the home. Numerous styles, sizes and shapes are available. Some people choose to add screen doors to let in fresh outdoor air. Entryways should be secure and energy-saving as well as enhancing curb-appeal if they face the street.