Many home improvement experts often consider that house siding replacement is a good investment that any home owner can make. Although the cost of house siding is high, siding installation can in fact give your home better protection and better durability on a long run. Usually, the cost per siding is decided by taking a few factors into consideration. For an instance, a siding installation cost includes contractor pricing, material cost, labor charge, and the price per foot for installation. On an average, sidings cost per square foot may vary from $2 to $20. Siding contractors often determine the price by taking all these factors in to consideration and the national average price per a 2,200 sq ft home.
Vinyl Siding Installation Cost: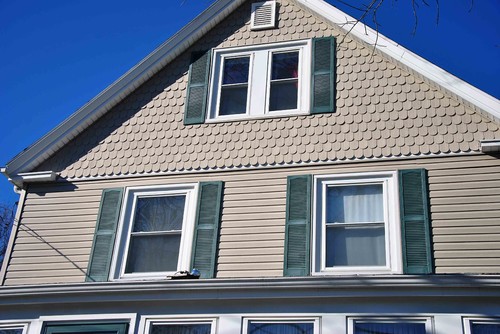 Vinyl sidings gain popularity amongst most home owners because of their low maintenance quality and better durability. This type of siding is vulnerable to mold and cracking in extreme weather. Also, the cost per square foot of vinyl siding is cheaper than its traditional counterparts. This makes it an affordable and durable siding choice for your home. Vinyl sidings also look great on any type of home. Surveys show that about 32 percent of homes feature vinyl siding nationwide. The cost per square foot of vinyl sidings ranges from $2 to $3. For a 2,200 sq ft home, you can expect to pay around $7,000 for vinyl siding installation. Considering the cost of vinyl siding, its durability and weather resistance, such siding can be a good choice in contrast to its costlier counterparts.
Cement Fiber Siding Installation Cost:
Such type of siding is mad from wood pulp and cement. This siding not only offers better weather resistance, but also protection from mold, fire, and water. Cement fiber sidings require minimal maintenance. In terms of investment return, cement fiber sidings offer the maximum positive returns. If you are planning to remodel your home, you can always consider selecting cement fiber sidings. On an average, these types of fiber sidings offer up to 50 years of durability. The cost per square foot of cement fiber sidings ranges from $4.50 to $9. The total cost per house can be up to $14,000 in total. Considering the maximum return and better durability, this siding option can be the best choice for all home owners.
Stucco Sidings Cost:
Such types of sidings are best for tropical climates. As these sidings offer good insulation and fire resistance nature, these are perfect for tropical climates. Stucco sidings indeed require nearly no maintenance. That is certainly a good news for those who want to invest on durable sidings that needs nearly no maintenance. The cost of stucco sidings ranges from $4 to $10 per square foot. Your entire siding installation cost may vary up to $15,000 for a 2,200 sq ft house.
If you are looking for a durable and affordable siding option, then vinyl siding is the best option for you. Vinyl sidings can be installed easily and require no painting. This will certainly save you some more money during the siding installation. However, fiber cement sidings are the types that offer the maximum return on your investment with up to 50 years of durability. Stucco sidings are definitely good for balmy climates. Also, it costs less than fiber cement sidings. All of these three sidings offer your home a new look and better protection.
If you have made the decision to install new sidings in your home, call today to Tampa Exteriors at (813) 659-5426 to get a rough estimate about the siding installation cost.