There are plenty of window treatment options that will provide a stylish look while serving the functional use of light control and privacy. Drapes can be a great option for someone whose interior décor is often changing. A wide variety of textile patterns, colors and textures are available, and drapes can usually be swapped for a new style in a matter of minutes. However, horizontal blinds and plantation shutters offer a lasting neutral style that will endure through different interior design choices. Of course blinds or shutters and curtains can always be combined to create custom looks that best complement the style of any room in your home. Here are three great window treatments for you to consider for your home.
Ceiling to Floor Curtains
These long curtains are a great way to create a stunning visual illusion that gives the appearance of one large window across a wall of windows and French doors. They offer an elegant look for functional sun control, and can even make smaller windows appear larger by creating long vertical lines. Using horizontal blinds that cover the wall space between the top of the window and the ceiling when open help to reinforce the illusion of a large window. Combining a horizontal blind with vertical drapes allows you to get creative in combining rich textures with patterns and colors to create a look that complements the décor of your home.
Horizontal Fitted Shades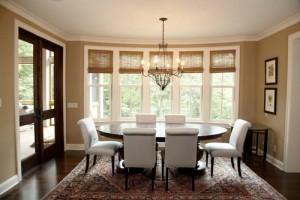 Fitting your windows with a horizontal fitted shade allows for the natural size and configuration of the windows to shine. This treatment works especially well in more traditional homes that offer the elegant look of the window molding. These also tend to look best when fitted to single pane windows that slide open vertically. By choosing a natural material with a loose weave, you can have privacy while still allowing some of the natural light to fill the room.
Custom Window Shutters
Plantation shutters are a great option for homeowners who want a custom-fit option that lets in natural light while maintaining privacy. The louver widths can be custom chosen, but are most commonly seen with a 2 ½ inch width. The 3 ½ inch louver width is best for large windows. For low sitting or bathroom windows, a double rail shutter is usually a great choice because it allows for closing the bottom half of the shutters to provide privacy, while the top half can remain open for natural light. By having the shutters custom built, they can be designed to fit any shape window and you can be sure they open in a way that will best suit your living space. Bi-fold panels open to one side while traditional panels will open out from the center. Plantation shutters are also easy to clean with a vacuum or damp cloth, and require less care than cloth drapes.
Whatever you choose, be sure it best suits your tastes and you'll love the way your home looks.