Choosing the right patio door for your Florida home will add style and design appeal. Patio doors come in a large selection of types, styles and materials to suit any home. Look for doors that compliment the architectural style of your home and provide functional access to your outdoor area.
Sliding Doors
Sliding patio doors are popular for contemporary homes. They are simple, easy to operate and provide large panes of glass with unobstructed views. They're available in a variety of frame and glass options that complement many home designs.
While typical sliders are five to six feet wide, they're available with doors that are eight to ten feet wide. These large panes of glass provide added light and picturesque views.
French Doors
French patio doors come with solid glass and paned glass panels that offer charm and elegance. The typical french door has two doors that can open in or out, but interesting variations are available.
Create a wall of beautiful french doors that swing open to your deck, patio, pool or garden. Open up a complete wall with a series of doors to take advantage of the outdoors. Choose paned glass panels that work well with traditional homes or solid glass panels that accent contemporary features.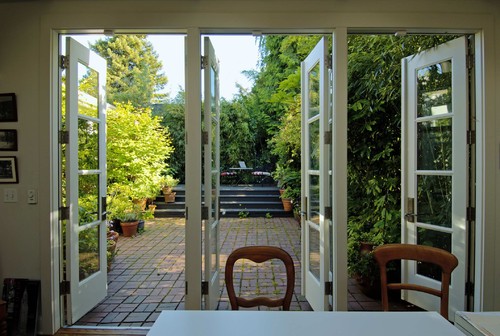 This modern interpretation of the classic french door creates a dramatic entrance. Doors with simple, clean lines swivel on their axis to open out onto the deck.
Folding Doors
Folding patio doors can create large openings that span an entire wall. They eliminate visual boundaries between your inside and outside spaces. If you don't want to open up the entire wall at once, make one door hinged to operate alone like a standard door. Folding doors are a great option to sliding doors when you don't have adequate depth to create wall pockets.
By installing a wall of folding patio doors, you can easily create an outdoor room that can be used as an extension of your adjoining indoor room for lounging, dining and entertaining. The large opening is great for parties and events with lots of guests.
Lift and Slide Doors
Lift/slide patio doors will create the largest opening possible. A lift/slide door has a single track that each panel uses until the panels reach the side walls, then multiple tracks begin. The panels stack up neatly, then disappear into an adjacent wall pocket. With lift/slide patio doors, the tracks are recessed in the ceiling so there are no floor tracks to trip over. Hidden tracks and doors that vanish into the wall make lift/slide patio doors the ultimate luxury for people who want wide open spaces and incredible views.
Lift/slide doors give this contemporary home above a full, unobstructed views of the breathtaking mountain scenery.
Take advantage of your Florida home's tropical climate and ocean views with a lift/slide patio door that brings the sand and water to you.
Looking to get a custom patio door installed? Talk to us here.