That tired siding currently on your home drags down the value of the property and makes your home appear dated. If the only reason you haven't replaced that siding is because you're worried about cost, now is the perfect time to call and make an appointment.
After learning more about installing siding on your home, you'll likely find that you can choose between vinyl, aluminum or wood.
Cedar wood is a good choice for home siding, and you'll find a number of reasons to choose this variety over the other options.
Durability
Cedar siding is extremely durable, and it can last as long as vinyl or aluminum siding. Many people who install cedar siding find that they enjoy the look for years, and the siding can last for 20 years or longer. When you opt for cedar wood, make sure that you look for a wood that comes sealed or seal the wood yourself. Sealing the siding will block out moisture, which can make the wood look cracked or dull. Moisture damage can also lead to swelling and other issues that require expensive repairs.
Adds Value to Your Home
Adding new siding to your home can increase its overall value by thousands of dollars, and using cedar siding can increase the value even more. Think back to the days when you originally shopped for a new home. Did you focus your search on homes that required expensive repairs, or did you look at homes that were in move-in condition? Shoppers today want houses that are in good condition and don't require a lot of extra work. If your siding looks faded, damaged or just plain old, it drags down the value of your home. Cedar siding can freshen up the look of your home and add value at the same time.
Multiple Choices
Cedar is a great choice for homeowners because it comes in so many different styles. If you have a modern home with simple lines and fantastic angles, you can opt for vertical siding that works well with that modern style. If you have an older or rustic home, you can look for natural cedar siding that has knotholes and other rustic elements. When you choose vinyl siding or aluminum siding, you typically need to choose a specific color, and you live with that color until you replace the siding. With cedar siding, you can change the color anytime that you want. You can paint cedar siding to change the look of your home quickly and easily. Cedar siding also comes in a style called shake siding, which mimics the look of wood shingles on your home.
Made from Environmentally Friendly Materials
Going green is one of the hottest trends in the construction and home decorating industries, and people now want products that are environmentally friendly. You can't get much more environmentally friendly than cedar shingles, which feature recycled materials. Some companies use sustainable woods, while other companies recycle shingles and other cedar wood to make new siding for homes. You can feel like you did your part to help protect the environment, while changing the style of your home at the same time.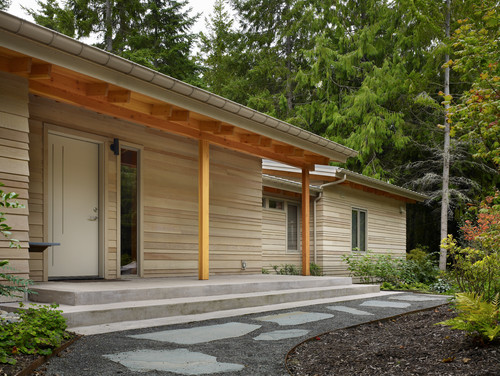 Con: Maintenance Issues
The only downside to cedar siding is that this type of siding requires more maintenance than others. With vinyl siding, you just need to hose down the siding a few times a year to keep it looking great. Cedar siding often requires some type of sealer added to the surface, and you also need to clean the siding to remove debris that might damage the wood. Many homeowners find that they can overlook the general maintenance because of how great the siding looks on their homes, this is a mistake that will ultimately lead to a repair job for your siding.
Fast Installation on All Homes
No matter what size your house is or what it looks like, you can add cedar siding. Cedar siding and cedar shingles add a fresh touch to your home, and you can use it whether or not you currently have siding on your home. Find out more about adding cedar siding to your home by calling us for a quote or an appointment today. You can also fill out our handy form, and we'll get in touch to answer any questions you have.