There's an old saying that "When in Rome do as the Romans." The wisdom behind that saying is apparent when you realize that maybe the Romans know something that you don't. The same could be said for those who live in Florida and other areas of the country where frequent and unexpected storms cause untold amounts of damage to homes and other structures.
Further, impact windows and storm windows not only prevent pricey damage caused by storms, but thanks to new technology and engineering, they serve many more purposes than ever before.
Storm Windows in Florida
It's a story most Floridians are intimately familiar with: a hurricane reeks havoc on the windows of your home, not only causing leaks and drafts in seams, but breaking and causing damage on just the areas they were designed to prevent. And it often doesn't stop there. Your old windows let in air–sometimes lots of air–that causes cold drafts in the winter and higher cooling costs in the summer. This often leads to a repair job.
Not Your Grandfather's Storm Windows
There was a time when storm windows and impact windows performed a basic purpose, and considering that state of the technology at the time, they probably did it well enough. Like many things, however, as time progressed and the technology and materials got better, storm windows and impact windows got better and performed more functions better.
In grandpa's day storm windows were put up every year to perform their function during storm season. Now, however, although storm season might happen over one period each year, storm windows can perform a valuable safety and energy saving function all year long. This is especially true in states such as Florida where there might be threats of storms throughout the year.
One Advantage, Two Advantage, Three Advantage, Four…
Advances in modern technology has not only made the actual glass of better quality, but construction of the entire window is better, making it stronger than ever. Although nothing is totally destruction proof, the chances that today's storm and impact windows will withstand more destructive elements than they ever did in the past is much greater. Further, advances in the construction of the windows and frames themselves have improved to the point that not only are they stronger in the event of storms, but they serve greater purposes in terms of energy savings and other advantages.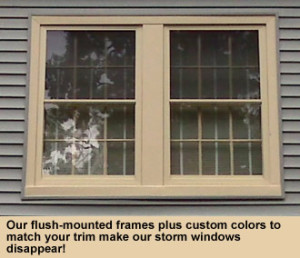 Advances in glass construction preceded development of new styles in tracking, which makes storm and impact windows easier to use and more in line with today's energy saving guidelines. As a result of these, users of these windows qualify for rebates and other financial benefits derived from use of these windows, besides the savings they see every day.