Floridians are assured of two things, plenty of sunshine and a good possibility of hurricanes. If you live on or near a storm-prone coastal area, your best line of defense when a hurricane threatens is to protect windows and doors with hurricane shutters. These are specifically manufactured to withstand high velocity wind, and keep flying debris and water from extensively damaging the interior of your home. Once hurricane winds breach a window or door, they cause a build-up of pressure along interior walls and upward pressure to the roof. As the roof lifts off the building, the entire contents of the home is exposed.
The type of hurricane shutter you purchase will be based on individual circumstances. You may want the convenience of a mechanism that closes automatically. These are pre-installed on each individual window and door so you don't need to have an area set aside for storage. Other options are steel or aluminum panels which are put up using supports and vertical braces. The panels need to be stored near your property for easy access when a storm is coming.
Hurricane panels are an investment in your home and one that will save on your homeowner's insurance. Check with your insurance company to see what discount they offer. Within a few years hurricane shutters pay for themselves and increase the resale value of your home. Listed below are the types of hurricane shutters available on the market.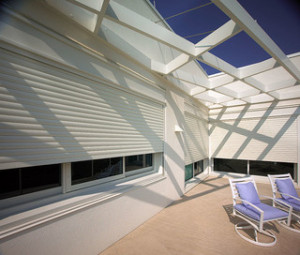 Roll-down
These shutters offer the most convenience and need little time to employ during storm preparation. They are installed to roll down and lock shut from an enclosed box above the window. This can be done either automatically or hand cranked to a lowered position. The Roll-Down storm shutter also offers protection from theft, as they can secure the home when the homeowner is away. This type of shutter takes the most investment, but offers excellent protection. If the automatic mechanism is installed rather than the crank version, this must include a backup battery system so that the shutters can be operated during power outages.
Accordion
Accordion shutters come in one or two-piece models and are installed at each side of a window or door when not in use. For storm protection they are unfolded across the window to cover it accordion-style. This can be done automatically by an automatic mechanism, or they can be hand-cranked. The advantages are that they can be handled by one person and don't have to be stored elsewhere. The average person can have all the shutters on a home in place in 30 minutes or less.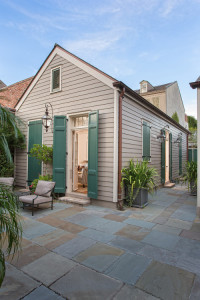 Colonial
The Colonial shutter is manufactured in two pieces and is attached to each side of the window. To operate, the shutters are folded together across the window and usually require a center rod for locking it in place. Colonial shutters cannot be used on doors and are usually combined with another type of shutter for this purpose. The mechanics of the Colonial shutter require more time to prepare a home for a storm. Depending upon the size of your property, securing the shutters would take one person one hour or more. These shutters are a decorative addition to your home and do not require separate storage.

Bahama
The Bahama shutter is a one-piece unit that is permanently installed above a window and hangs at an angle for shade. The unit is lowered in place and secured for a storm. This type of shutter is available in a selection of sizes and materials, including fiberglass and aluminum. The Bahama shutter offers every-day privacy, and can be secured quickly by one person when necessary. Bahama shutters are not as popular as other types of shutters because they partially cover all windows when not used for storm protection.
Storm Panels
A less costly alternative to installed hurricane shutters, storm panels but must be removed and stored somewhere within easy access of the home. The advantages are that they offer good protection for windows and doors and don't alter the home's appearance. Supports and vertical braces hold the panels in place so more time is needed and more than one person is required.
How to Get Started
Here at Tampa Exteriors we specialize in helping you choose the right hurricane shutters for your home. It's one of your most important purchases and one that you expect to be handled with the utmost quality and care. Fill out our contact form for a free, no obligation evaluation of your needs. Let us show you how to protect your investment and increase the value of your home. Give us a call now for a no-obligation price quote (813) 659-5426