The entryway is the place people first see and where guests enter, and home designers and owners can select a decorative door and style for their entrance. The style of the door should look attractive and complement the rest of the house's exterior decor. The front door can reflect the personality of the homeowners, the taste of the designer and the locality where the home is found like these front doorways in Florida: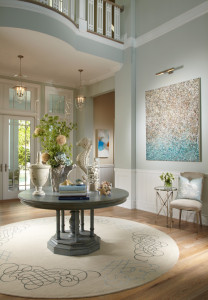 Letting in the Coastal Light
Letting in the light of the Tampa coastal region, this front door option features double French doors. Large windows are on both sides and all across the top above the doors. The other windows with the door make a wall of windows for indoor light into the foyer. Additionally, the doors and window frames are white to carry the light.
The inner room has other light sources, but that wall of windows at the entrance certainly makes the room what it is. In addition, the French doors allow for a convenient wide passageway.
Traditional Door and Ornamental Fiberglass

For a beautiful and inviting front door, this selection has a traditional wooden door with an inserted large fiberglass panel. The fiberglass is nearly as large as the door, and it has a textured floral pattern covering its surface. A thin panel of the fiberglass as tall and with the same pattern as the door is on either side of the door. Such an entrance lets the outdoor light into the home, but the patterned and textured fiberglass also provides privacy to those inside the house. The doorway is inviting day or night because of the floral pattern and the light emanating from inside the home through the fiberglass in the evening.
Welcoming Front Door

A red door symbolizes welcome and happiness to those who enter the house through it. This particular door is red, but it also has some unique details including the porthole window and matching screen door. The stone blocks highlight and enhance the rounded-top door as do the cheerful reddish flowers in the pot and flower bed in front of the door.
The door has character and is a welcoming sight that hints of the happy atmosphere within the home.
Attractive Entryways for Homes
Grand or simple, the entrance to the home should impress with its pleasant and appealing style. Guests and strangers to the home will get their first impressions of the house as well as of its occupants from the way the entryway looks. The front door and entrance can fit in with the location and surroundings and have some personal touches from those who live inside the home. Of any part of the house to upgrade and maintain, the front door entrance should be attractive and the door should stand out from the rest of the house.
Get a Price Quote on Entry Door Installation in Tampa
Want to get a cost idea for entry door work?
Give us a call now! (813) 659-5426